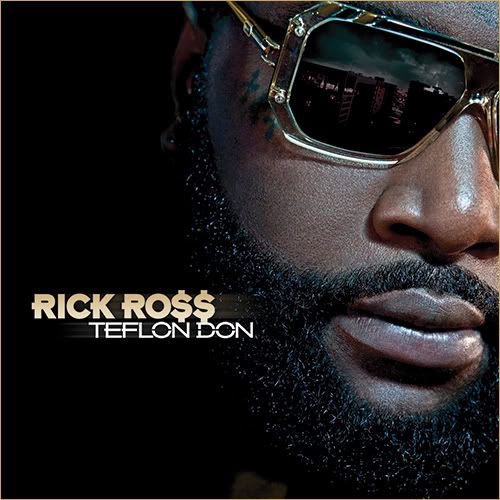 Rick Ross has certainly come a long way. The boss has always possessed an impeccable ear for beats and a booming vocal presence but his topics were trite, his flow was basic often drowned out totally by generic ad-libs and he was out-shined routinely on his albums by his features. Well he's still getting out-shined but at least his flow has dramatically improved now, to the point that they make of for his lack of variety in subject matter.
One thing I admire about Ross is that he has a highly accurate depiction of his artistic strengths and weaknesses; a valuable artistic gift that allows him to fill an album with complimentary guests that still outshine him in some cases and provide the lyrical variety that he lacks giving depth to his one-dimensional boasting. I've listened to "Teflon Don" a few times now and I've concluded it's his best as its has as much high points as "Deeper Than Rap" without the one or two filler songs towards the end. As usual heed the spoiler alert if you haven't heard the cd yet.
1) "I'm not a star" - Great intro. As usual he isn't saying anything deep or profound but his voice sounds great on the beat and his flow is nimble around the snares. Nice hype track(8/10).
2) "Free Mason feat Jayz" - Now much talk has been made about this song and on an unrelated note I want to say that I don't care about whether Jayz is a free mason or illuminati or whatever but I would like to hear him explain the
"On To The Next One"
video. In my opinion he didn't explain anything to me or change my opinions in any way. That aside, it's a pretty dope track with Ross sounding like he's saying something and Jay directly addressing the Free Mason 'rumours' in an expected but witty way. John Legend kills on the hook fitting the feel of the track perfectly. (8/10)
3) "Tears of Joy feat Cee-Lo" - This song is good in theory but I felt it didn't come together all that well. Seems disjointed but I give Ross kudos for trying some introspection. (7/10)
4) "Maybach Music III feat TI, Jadakiss and Erykah Badu" - With most sequels (Spiderman, Godfather etc) the third one falters and it seems so here but just by a little. Its bad still but somehow it doesn't seem the huge event that the others were despite the cast. (8/10)
5) "Live Fast, Die Young feat Kanye West" - This is my favourite track on the cd right now. Featuring a beat that sounds like a leftover from "College Dropout" (in a good way) and Ye spitting like he's still in that era... it's a win for me. Again, there isn't anything Ross says that resonates with me but he is able to gel his flow to the beat which is enough. (9/10)
6) "Super High feat Ne-Yo" - When this song dropped a month or so ago the beat stood out but by now it's a skip. Cliched vintage Ross lyrics plus an okay hook. (6.5/10)
7) "No.1 feat P. Diddy and Trey Songz" - This is a fun little nothing song that is only spoiled (a little) by the involvement of Diddy in it. It's positioning places it as a nice little intermission between the songs that preceded and the monsters that follow. (7.5/10)
8) "MC Hammer feat Gucci Mane" - This is a monster of a beat that Ross thrives on (think "Hustlin") and he absolutely destroys it based on delivery alone. The conceit is that he's living frivolously...like MC Hammer. It's a paper-thin concept that Ross lazily never bothers to expand much but it doesn't matter as his delivery alone makes the song. Gucci doesn't mess it up which is good for him. (9/10)
9) "B.M.F. (Blowin Money Fast) feat Styles P" - Lex Luger who produces "MC Hammer", also produces this song which give the illusion of a seamless move from track 8 to 9. Ross deals with this one as well but is showed up at the end by a grimey-sounding Styles P who boasts of having guns from the video game "Red Dead Redemption". Real bad. (9/10)
10) "Aston Martin Music feat Drake and Chrisette Michelle" - This is a nice laid back tune and sounds like something that belongs on Drake's album. Drake features here singing an extended part of the hook but isn't really needed and it seems like he was brought on for name recognition. Chrisette by herself kills on the hook and Ross holds his own by impressively fusing his delivery with the beat, which doesn't sound like anything he rapped on before. (9/10)
11) "All the money in the world feat Raphael Saadiq" - This song was kinda meh for me. It wasn't terrible but the beat is pretty generic-sounding especially following "Aston Martin Music". The hook is kinda meh too... I expected more from Saadiq. An ok closer I guess. (6/10)
And that's my rating. "Teflon Don" is a great album, one of the best for the year but not a classic. Let me hear what you think in the comments. Face out.