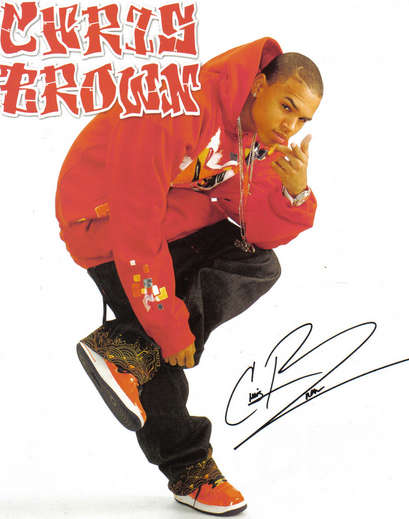 Yeah mih brethren, waz de scene. Don't worry you didn't read wrong, Da Face did get up in that Chris Brown concert and yes dey had more little children in attendance than the first day screening of Kung Fu Panda. And yes I was probably the oldest person in the Green Section which featured girls screaming and sh*t like Michael Jackson was actually on stage instead of his best living imitator. But yes I must also admit that Chris Brown is also a much better live singer than I had previously thought.
Well if you know me well I'm a person who prefers to reach concerts early...like when gates now opening. I actually ending up touching down in the concert around six and Mr Machel took the stage to perform not too long after. Frankly I was a little disappointed by his performance though; it wasn't bad by any stretch but it didn't feature anything I didn't see from him before. I guess I've gotten spoiled by his perpetual over-achieving but as a Trinidadian I was hoping that he would have showed up Chris Brown just a little bit. Patrice also performed her set and she was aight...nothing strange there. Also, during their set Positive, the dude with the one of most requested songs in Trinidad both on the radio and by the music pirates, came and performed his hit song "Never let go" (I dunno if that's the actual name of the song). After watching him I must say that I'm really liking this guy's performing style a lot; he really puts himself in his performance and vocally he delivers it almost as good as on record.
After Mr. HD was done, we had some djing and I got to watch little kids grind on each other like big adults. Thankfully it wasn't too long before Chris Breezy himself graced the Trinidad stage which resulted in an plethora of screams from all over the venue. Being an ex-bess fete hopper in my day, I've seen some intense audiences but this is the first time I've witnessed so much screaming and seen so much pre-pubescent girls totally lose their mind. There was this one girl behind me who was jabbering unintelligibly and shaking between intermittent, ear-deafening screams of "Chris Brown ah love yuh". s Real talk though, CB was very impressive. Other than performing his many hits, Brown performed reggae, dub and even danced to some soca while entertaining the crowd. His vocals were top notch and with all the pop-locking, hand stands and running on stage he didn't sound out of breath even once. Anyways, I'll let allyuh be the judge. Check out the videos below. I even got one with the Bmobile mascot "Limey" bubbling to some Movado. Talk about jones.
Chris Brown singing "Goodbye"Chris Brown flexingChris Brown singing "Umbrella"Positive performs "Never let go"Machel performs "We not giving up"Chris Brown performs "Kiss Kiss"Bmobile mascot bubbling to Movado