It's been a decent year for underground albums in Trinidad and when I say decent it's totally without context since this is the first year that I have been able to reliably acquire Trinidad underground releases. Before
Highway Records
(located in Curepe) came out, there wasn't any place to acquire musical bodies of work from underground artistes... for an affordable price. Before HR, a man woulda had to pump to Rhyner's or Crosby's and take the chance of paying $120TT or so for an artiste they never heard of before. Yeah right!
Recently and now, with $30TT to $50TT in hand, I have been able to get my hands on roughly 24 different albums for the year and it's been an interesting and sometimes good listen. My only two points of contention is that some men really need to up the quality of their recordings (check a studio nuh) before placing a price tag on the front and I would have liked to listen to more stuff (I advise any upcoming artiste who has a mixtape to either link with
Highway Records
or check out
Tru2culture
which is a local music distribution company that has connects in several stores all over the country.
And on another point, I done know what some of allyuh men thinking already - if you feel like your sh*t was better than the best I've highlighted then send it to me. If your stuff is that good I don't mind tacking it pon the list. So without further ado in no particular order...
1) Ghetto Child by Make it Hapn
What can I say about this album? This is a landmark body of work not just for underground music and Trinidad hip hop, but Trinidad music on the whole. This concept album about crime and poverty in Trinidad and Tobago brings the listener into a world decorated with exquisite sampled hip hop beats by Beebo (one of the hardest rap producers in Trini) and never lets go until the last song. The best $30TT spent ever. You can probably still get this in Highway Records.
2) The Issues Live by Skeeto
This is actually a mixtape and not an album but for a mixtape and for $20TT the stuff is scarily good. On this cd Skeeto rides the instrumentals for songs like "All about the Benjamins", "Go", "Canon remix" and with a trini accent kills most, leaving the undead badly wounded. I don't know where you can get this now but its worth the listen.
3) Levi Myaz Street Album by Levi Myaz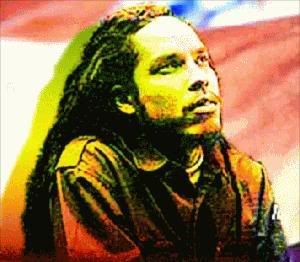 It's hard to pigeon hole Levi Myaz. Equals parts singer and chanter with the genes of Mr Bring back de old time days aka Nappy Myaz, Levi Myaz holds attention and thrills for the entire duration of an album of more than twenty tracks. This was my first time really listening to him but I will say that I'm impressed. Highway Records may have this.
4) Four Quarters by I.A.L.S.
When a big respected rap group drops an album is not like you have a choice whether to listen. Four Quarters is a concept album whereby four of the group members each commandeer a quarter portion of the album with their individual concept, allowing you to get into the mind of each of the four complimentary but diverse personalities within the group. The vibe is old school hip hop but the beats are insane and I won't advise you to miss out on this especially if you're a fan of old school hip hop and/or I.A.L.S. You can check for this in Highway Records.
5) The Psychotic Modification of Fear by Kayotic Verbal Automatics
Krazy K, J.O. Skillz and Crisis are three more than capable mcs but as a group, they make their mark. The beats set the mood perfectly, taking you on a journey where these three mcs speak largely on the importance of skills and technique to mastering your fear in a world filled with haters and wack mcs. I'm not sure where you can get this now since I got it from the fellas themselves but cop it cause it bad.
Yeah, so that was your list folks. It's been a good year and I wish everyone merry Christmas and a happy new year in 09. Last time for '08, Face out.